"The Quilt Show" is an  ONLINE WEB BASED program (not TV channel involved) and it is hosted by Alex Anderson and Ricky Tims.  I was privileged to have been invited to tape an episode last year.  Well, this episode #1303 will be airing on the website on 7/29/13.  So if you are already a star (paid) member of TQS you can see it then!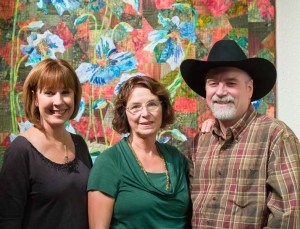 If you are not a member, you can still see it for free starting 8/4-8/11/13.
Here are the instructions I received from Lilo Bowman the Editor-in-Chief-/Producer.  This will enable you to see my #1303 episode.
We will open up your Episode for *your* customers to watch for FREE! We have it scheduled from *August 4- August 11, 2013 *, AND also below is a link where your customers can receive a discount on a TQS membership.  This way, anyone joining during the week will have an opportunity to see your show and other fun things we have to offer on the website. 
–  Log on to the website www.thequiltshow.com
–  Click on the Join Now button
–  Create a profile name and password
–  Complete the sign up process for the Basic (Free) membership after which you can do directly to the show viewing page for Show #1303.
You will learn and see me discussing the use of VALUE in my art with Alex.  And later, you will get a taste of my brand new revolutionary Machine Applique technique I call Heat-Set, as I demonstrated it to Ricky.
 and here is the link to my trailer that you can view now!
http://www.thequiltshow.com/os/blog.php/blog_id/5813
There is a coupon code for all of you to receive a discount of 20% when joining TQS this week as a paid member:  238719499698.  See link below:
https://www.thequiltshow.com/os/create_account_2.php/alias/grace_errea/coupon_number/238719499698
Enjoy the show! And since you are on my website see the newest quilts in my gallery and the more news on my blog .