In this Value Matching Tool you will put the fabric or item you want to find the value of right under the opening in the Tool for the hue you are working with.
The Tool is designed to work with eight (8) values. Value 1 is the lightest one and Value 8 is the darkest. You will therefore find for each hue and gray, all 8 values sorrounding the opening.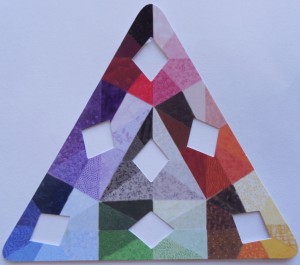 In the first example I have placed a very very dark navy blue fabric, a value 8 blue fabric: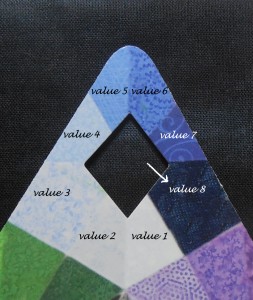 In the second example I used a light red (pink) fabric. As it turns out it is: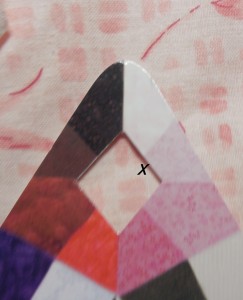 RED VALUE 2 !!!!!
You can use this tool to match fabrics when you need to identify similar and/or equal value. I also use it when I am creating a quilt from a photo. I can identify the value of the shape from the photo and then find the appropriate fabric of the correct value in any color in my stash.
Let me know if you have any questions. Email me if you found a new and different use for this tool yourself.  I would love to post your suggestion for everyone's benefit !
Previous Post:
December 2013- Post 1 – Blue ornament for Christmas 2013 Pattern
&nbsp Next Post:
March 2014 Newsletter