Hello and Happy Holidays to-be:
It is almost Thanksgiving! and then Christmas, and a New Year starting.  I am not sure I remember all that happened this year. It seems like it was just January and now it is almost another January!
Holiday shopping is here so I thought I would help out a bit.  If you go to my For Sale page you will find that you can get a 10% off the entire order (except shipping and tax) just by using the code GET10.
Everything! Including textile art pieces, patterns, books, charts, etc.  And by the way, I have a few brand new patterns there such as  Home in the Aloalo (hibiscus), the Birds in Paradise and the A Bird in Paradise, and Moondanceâ.   And just finishing up and will post a new pattern by the end of this week of the Hyacinth Macau. You have seen the quilt, and now the pattern.  So shop away without fighting the crowds in the malls.
If you are looking for classes, there will be a couple of newly designed classes coming up soon.  One for example, will be my new class in creating pieced and applique backgrounds.  So keep an eye on my Calendar and my Blog for new and more information.
Whether you visit my website or not, I wish you a very happy Holiday Season and a prosperous and healthy New Year.  May our paths cross again and again¦ soon.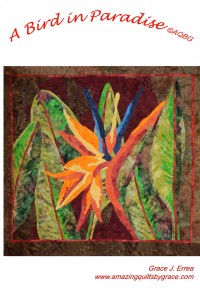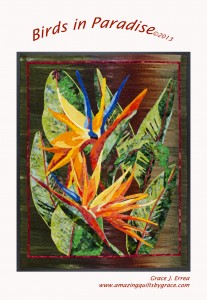 Previous Post:
Introducing a new pattern – "Home in the Aloalo (Hibiscus)"
&nbsp Next Post:
December 2013- Post 1 – Blue ornament for Christmas 2013 Pattern