Brand new pattern just finished.  This quilt was done exclusively with Hoffman Batiks.  The pattern contains information about which fabrics and how much of each to purchase if you would like to reproduce it exactly.  But it can be also done with any other fabrics.  The pattern includes color chips for matching, each fabric is value based (values 1-8 from light to dark), and amounts  for all the fabrics used.
Luna moths are so inspiring.  They are graceful as ballerinas, and they are nocturnal insects.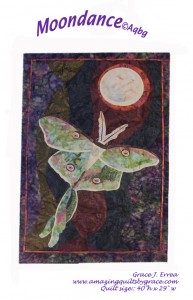 If interested please go to the patterns for sale page or contact me.
Previous Post:
September – Long time no see!
&nbsp Next Post:
Introducing a new pattern – "Home in the Aloalo (Hibiscus)"