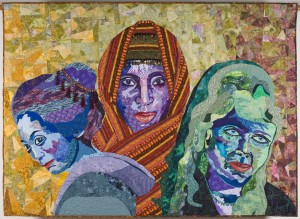 Happy March !
Wishing you a great month !
February is a short month but this time… WOW when you are busy, it becomes shorter than usual. Classes will be starting for me so it is time to get back to work! Enough of the quilting fun!
Here are there items that might interest you.
1) The Value of "Value" Article
I have completed an article on the Value of VALUE for the National Quilting Association Quarterly Magazine. The magazine is at the printers as we "speak." The issue will be in members' mailboxes early March. I will get a few additional copies as this article is exactly what we discuss and cover in many of my classes and presentations.
You know that Value is important. I swear by it and lecture, teach, write and use it in my work. If you are interested in a copy of the magazine and you are not an NQA member, let me know and I will get as many magazines as needed from the publisher.
Great article, if I say so myself. Four pages jam packed with information and many, many colorful quilts.
2) Presentation and workshop at the Flying Geese Quilt Guild, Santa Ana, CA.
Sunday March 9the I will be teaching a workshop to the members of the Flying Geese Quilt Guild in Santa Ana, CA.
The Class will be my well received Introduction to "Heat-Set" Machine Applique – 1 Day. It will be held at the Orange Quilt Bee in Orange, CA.
A few of you expressed interest in attending the class. If you are local and not a member of the Flying Geese QG, give it a try anyway by getting in touch with Glenda McNeil, at glendamcneil@gmail.com. She will know more regarding the guilds rules about non-guild-member attendees to the class and, she will also know whether there is any room left in the class.
3) Class CD with step by step information on how to create the "Randomly Pieced Backgrounds" that I so often do
This is my first instructional CD on a technique that I have been using often to create backgrounds for my quilts. The quilt shown in the picture above (Women of Color) is one of many examples. I call this technique "Randomly Pieced Backgrounds".
I have the CD on my website now, so if you are interested place the order through the For Sale Page on the Website
http://www.amazingquiltsbygrace.com/shop/books-by-grace-errea
And by the way, within a week I should have the downloadable version of the CD on my website as well.
So if you prefer to have it right now! that will be an option. And you save on the shipping!
See you next Newsletter !
Always Warmly,
Grace Errea
Previous Post:
December 2013 – 2nd post – Value Matching Tool – how to use it
&nbsp Next Post:
May 2014 Newsletter