It has been a loooong time since I had time to sit down and add some writing to my blog.
Meanwhile lots of classes where I met some wonderful students, a couple of quilts (see below) and lots of patterns that had to be printed, packed and shipped to Keepsake Quilting. My New Dawn Rose was in their Summer Catalog and my White Breasted Nuthatch is in their Fall/Winter Catalog.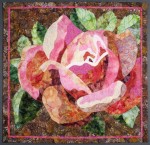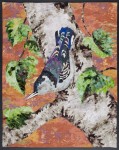 Just finished 4-days at the San Diego Quilt Show. First time ever that I was able to meet at this venue people from Winconsin, Hawaii, Arizona, and Mexico! And if I am forgetting a location, please forgive me. And please remind me! Hope you came and enjoyed the show!
Meanwhile I have finished two new pieces.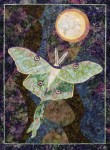 Moondance is the name of the first one showing my interpretation of the Luna Moth.
The Hibiscus has a story. Last year when I taught at the San Diego Quilt Show, I found this wonderful Hibiscus just sitting there in a pot. Many photos and 12 months later, here is the quilt.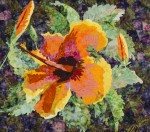 This year I discovered another flower also sitting in a pot. It is a red Antherium. Perhaps it will be my next flower?…. after the ones I already started of course.
See you soon…..I am gathering all my photos from the San Diego Quilt show and I will post them soon so you can meet those wonderful ladies… and one husband! and see some of their work.
Previous Post:
July 2013 – The Quilt Show Announcement
&nbsp Next Post:
Introducing a brand new pattern – Moondance!